microZOTL MZ2 Headphone Amp / Preamp / 1-watt Speaker Amp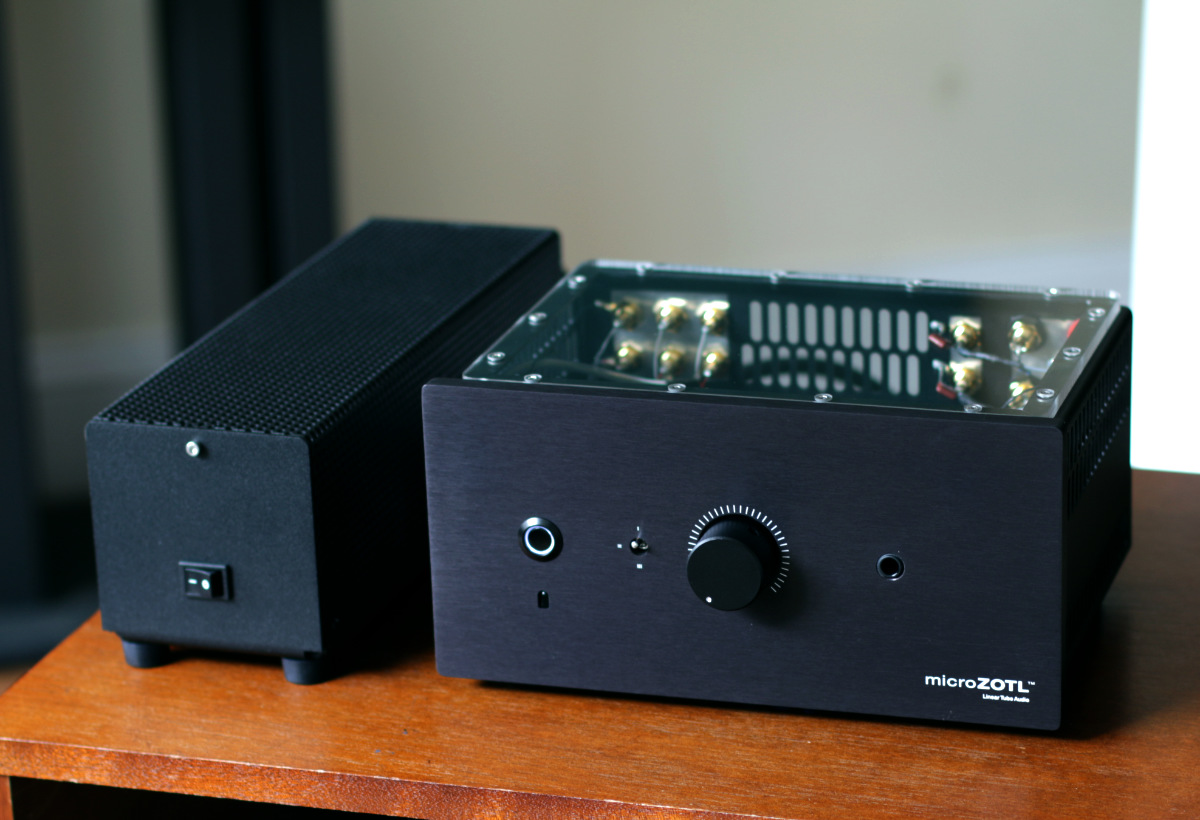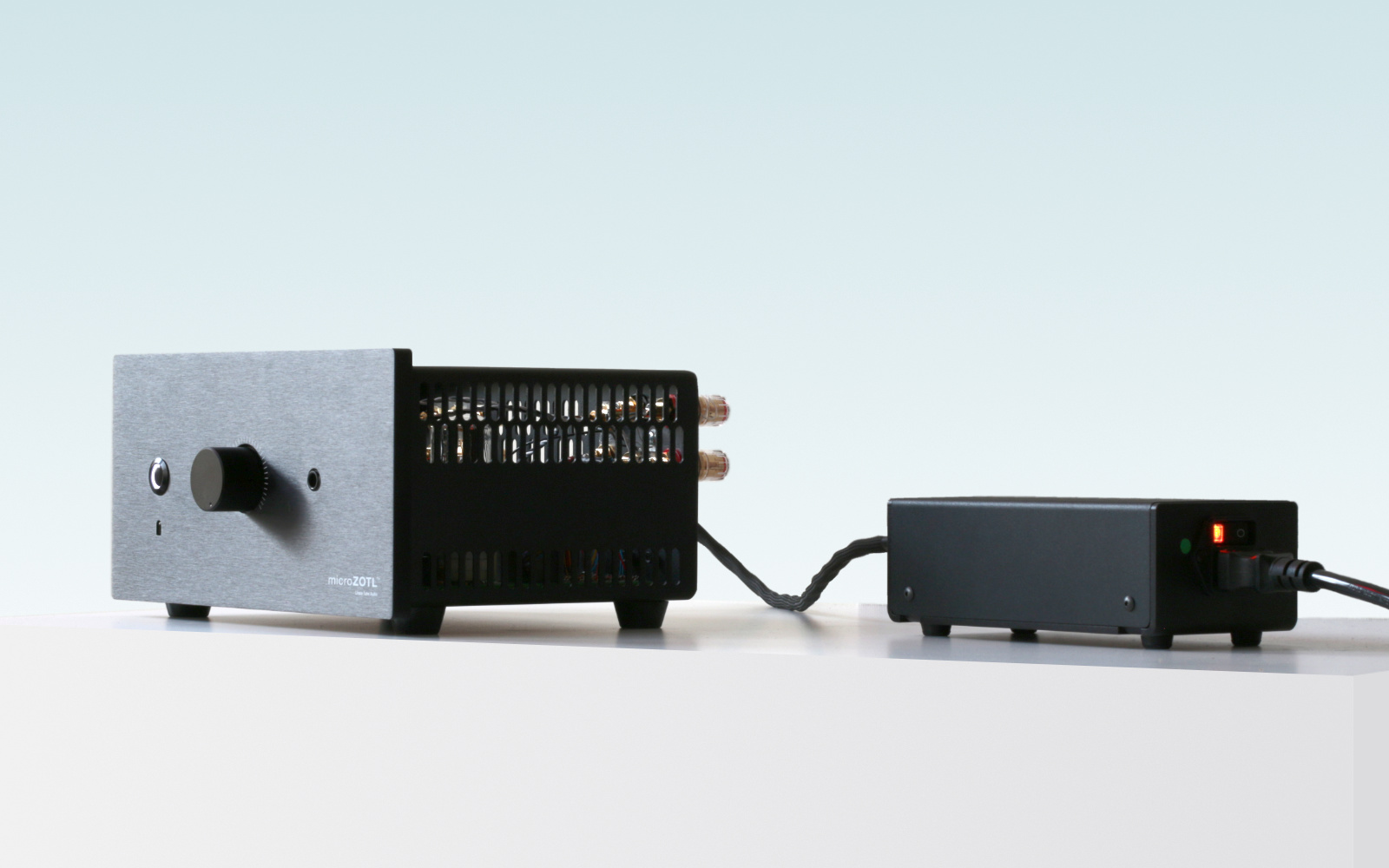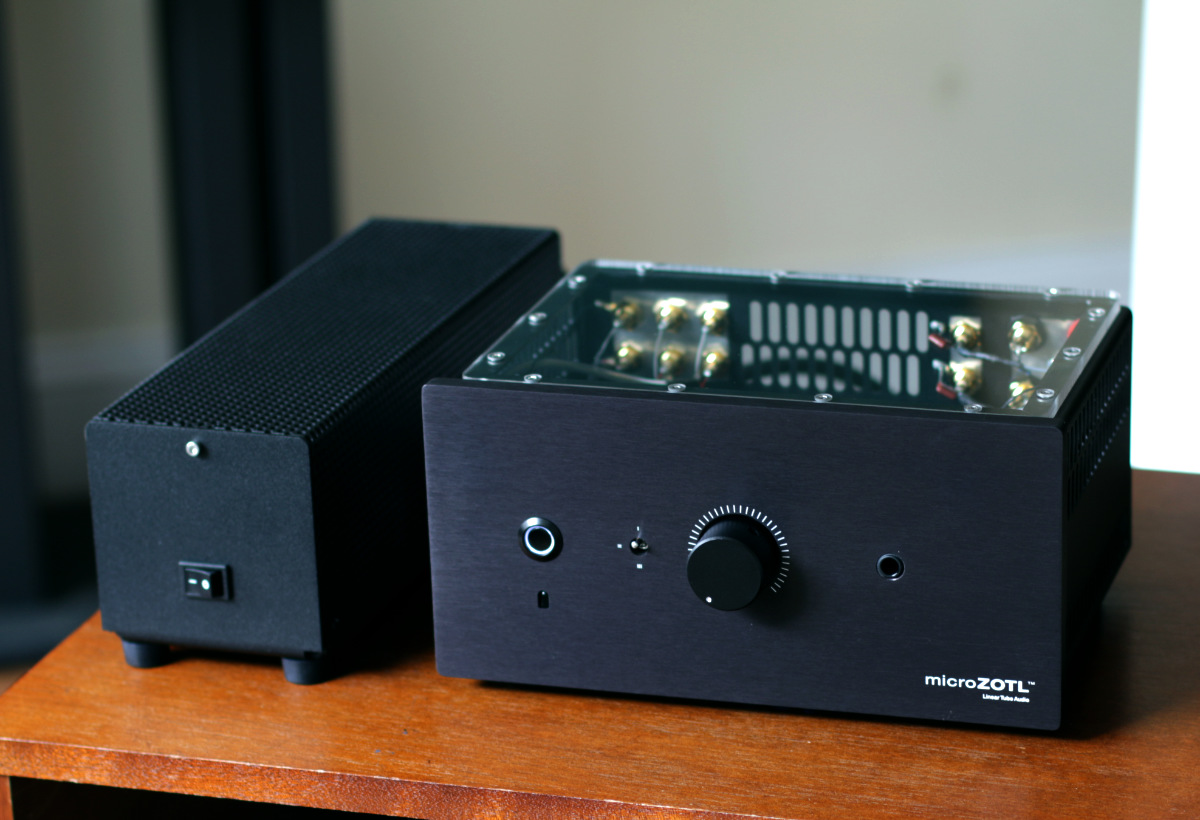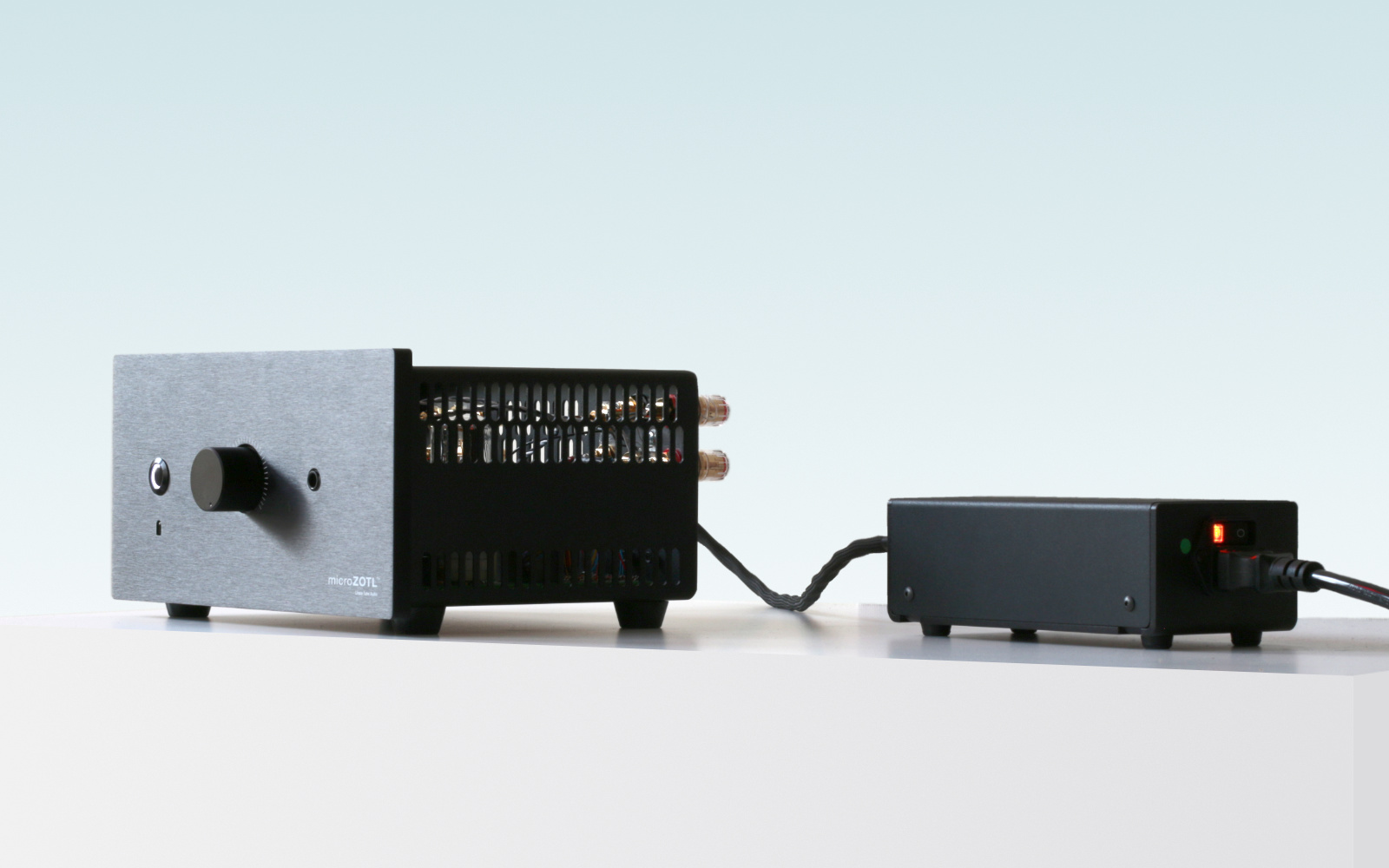 microZOTL MZ2 Headphone Amp / Preamp / 1-watt Speaker Amp
The second generation of the product that started LTA. Built on the 6SN7 tube, the MZ2 remains the reference introduction to the unique ZOTL circuit.
The successor to David Berning's original micro-ZOTL, the MZ2 continues to offer what Berning intended it to: an introduction to ZOTL technology.
Equally a headphone amplifier, integrated amplifier, and preamp, the MZ2 is considered reference-grade for powering almost any headphone, as a 1 wpc amp for extremely efficient speakers, and as a preamp performing well above its price.
Hand-built by our small team just outside of Washington, DC, each MZ2 involves 12 hours of delicate work, including precise hand-winding of several proprietary components, and several days of burn-in and testing.
Tube tone + solid state detail
Traditional tube amps are known for their liquidity and linearity, but their "warmth" masks details and can sound thick. Solid state amplifiers give you that detail, but can be "clinical." ZOTL amplifiers give you the best of both worlds: beautiful tube tone with the clarity of solid state (while being entirely tube-based.)
Patented perfection
The MZ3 is based on David Berning's patented ZOTL technology, the only advance in tube technology since the 1950's. For a technology to be patented, it must be deemed "new, useful, and non-obvious." We think that sums up our approach quite nicely.
Made in the USA
Every LTA product is designed and built by hand in Takoma Park, Maryland, by a group of technicians who are also musicians, audiophiles, and music lovers. Some of whom have been with us since the company's earliest days.
Quality assurance
The MZ3 is hand built by technicians with years of experience building the complex ZOTL circuits. All our products are backed by a 2-year warranty and a 14-day no-questions-asked return policy.
Stereophile Recommended Component since its release in 2016
Herb Reichert delighted in the sound of the microZOTL driving DeVore O/93 and Zu Soul Supreme speakers—with the latter, he said, "musical flow seemed more slippery and alive, like a trout in a clear mountain stream"—and with JH Audio Roxanne headphones, he said, "the midrange was pure and right." And "because of its radical transparency," says HR, the microZOTL2.0 "would hold its own" as a line stage "in a cost-no-object system."
Linear Tube Audio has something quite special on their hands in my opinion. I tend to like tube amps that lean to the neutral and fast side of things, but I still appreciate the liveliness and richness they bring. There are only a few amps I've heard that pull this off, and the ZOTL is the newest member of that list.

Where the MicroZOTL excels is in its truthfulness and its value for the money. The MZ2 isn't cheap, but I feel that it represents an excellent piece of gear for the asking price, and it's' something I would contemplate purchasing if I were in the market for a tube amp at the price.

Finds like this are rare in the tube world, where parts can be expensive and engineering tradeoffs abound – everyone is looking for that sweetspot of performance and price, and generally, only time, testing and listening will tell. In the case of Linear Tube Audio's MZ2 I think we have a real sweetspot product. Get your ears on this one if you're in the market for a really balanced tube amp.
Music just seemed to float effortlessly in space without ever seeming forced or strained. The bass is rhythmic so that my system sounded very lifelike, but it didn't add any extra warmth to the bass. Maybe the biggest surprise was its ability to portray tonal accuracy and purity with instruments and voices, and at the same time, it had the most detail, speed, and micro-dynamics of any amp I have ever heard in my system. I had come to believe that in order to get certain of these qualities in an amp, I had to sacrifice the others. This is not true with this amazing little amp.
In this context I could only marvel at its explosive dynamics. The range from soft to loud was negotiated with a world-class startle factor that exceeded the performance of the Audible Illusions L3A line preamp, and if memory serves me right, actually equaled the performance of the much-more-expensive Pass Labs XP-30 preamp in this regard. That made the microZOTL2.0's presentation visceral and involving, impossible to ignore. And as it turned out, it was far from being a one-trick pony. Bass response was spectacularly solid, extended, and pitch-perfect. And there was no denying that soundstage transparency bettered that of any tube preamp I've auditioned under $5k.
We listen to a lot of audio equipment here at TMS. There's a constant train of gear trundling in and out of our offices. But this is one of the few pieces of gear which we were actually sneaking off to listen to on the weekends, or late at night.

The sheer joy of realising what it did to our music collection, having to wait for it to heat up, sliding on the headphones knowing - knowing - that we were going to hear something special, was just a revelation. What does it sound like? It sounds like a gift from God. That's what it bloody well sounds like.

It's not just that we could hear every single element in the mix of whatever we listened to. It's that every single one of those elements had an indescribable richness to them. No matter what we threw at it, it continued to treat each instrument like a precious, fragile jewel, something to be wrapped up in layers of soft velvet. As tube amps go… it was glorious.
I rarely play my music loud—just 88dB on average—but it took only a few recordings before I forgot completely that the microZOTL2.0 was putting out less than 1W into the 10-ohm load of each DeVore O/93. If you have a small room and listen at modest levels, this is a truly magical combination.
When I put the MicroZOTL2.0 in my reference system, in place of a $24,000 preamplifier, I was patently shocked with what effect it had over the performance of my system. In listening to John Coltrane's album Ballads (Impulse), what was immediately striking to me was the beauty of the timbres and tonality of his tenor saxophone. The MicroZOTL2.0 produced the best colors and tones of any preamplifier that I have ever had in my system. The timbres of the other instruments (such as the piano, acoustic bass, and drums) were the most life-like that I had ever heard from this disc.
OPTIONS
NOS tube option - We offer NOS 12SN7s as an upgrade to the stock current-production Tung-sol 6SN7 tubes. The 12SN7 and 6SN7 are sonically identical and differ only in their heater voltage. Jumpers on the circuit board allow you to easily switch between 12V and 6V, allowing you to use both 6SN7 and 12SN7 tubes.
LPS+ Linear Power Supply - the original microZOTL has a switching power supply, which comes with a basic unit. The linear supply (LPS) is a much better supply utilizing super low ESR caps and a super low noise Belleson regulator. You get better sonics with more dynamics.
Remote Control - the MZ2 remote uses a motorized version of the Alps Blue Velvet pot, which is also used in the non-remote version. Same pot, same sound. No sonic signal degradation. It uses the Apple TV remote control. It is paired to the unit and controls volume only.
Premium DC Cable - the MZ2 comes with an umbilical cable that connects the amplifier with its external power supply using locking jacks. Purists can upgrade to a higher quality wire which provides a detectable, yet less noticeable sonic improvement.
Dual Preamp Outputs - some users desire dual preamp outputs and no speaker binding post outputs. This option is no charge when ordering an amplifier. Please email us your desire for this option just after ordering your amplifier.
Tall Tube Cover - this is an optional clear cover for the MZ2 with two 1.5 inch holes above the power tubes to allow for alternative tube types that are either on adapters or are taller than standard 6SN7s and 12SN7s.
FEATURES
Designed by David Berning - one of the world's premier amplifier designers

Hand-made just outside Washington, DC

External power supply - extremely low noise floor

Drive high efficiency speakers (95db efficiency or higher) to adequate volume.

Transparent cover

Universal voltage power supply or high quality linear power supply

3 selectable inputs

Class A preamplifier output

Transformer-less design eliminates intermodulation distortion inherent in all transformer designs

Simulates the correct transformer turns ratio using impedance converter

Low impedance output easily matches wide range of headphones and speakers

No heavy power or audio transformers

Optimized tube life expectancy of 10 - 20 years based on use

One year warranty including tubes (international pays shipping)
SPECIFICATIONS
Amplifier class: Push-pull Class A, no feedback
Sensitivity: 0.6V RMS [full output]
Output impedance: (measured @ 0.5A, 60 Hz) 2 ohms
Input impedance: 50k
Power Supply Input: Auto-switching 100V / 120V / 220 / 240V operation or linear supply user-switchable between 110/120 and 220/240 (contact us if in need of a 100V linear supply)
Power Supply Output: 12VDC 2.5 amps
Hum and noise: minimum 60mV RMS or 90dB below full output (20Hz-20kHz)
Power consumption from ac power source: 33W
Power output: with 4-ohm load: 1W, 1% THD, with 14-ohm load: 0.5W, 1% THD
Channel separation: (4-ohm loads) 46dB, 100Hz-10kHz, (14-ohm loads): 54 dB, 100Hz-10kHz
Frequency response full power: (4-ohm load) +0, -1dB 10Hz-20kHz, (14-ohm load): +0, -1dB 5Hz-50kHz,
Voltage gain: (4-ohm load): 10.3dB, (14-ohm load): 12.4dB
Size:
Amplifier: 9 1/2 inches (24.1 cm) wide, 4 3/4 inches (12.0 cm) tall, 7 7/8 inches (19.7 cm) deep (including connectors)
Linear power supply: 12" (30.48 cm) x 3.25" (8.26 cm) x 4.25" (10.8 cm)
Net weight:
With switching supply: 5.35 lbs (2.5 kg) - amplifier and external power supply)
With linear supply: 8.94 lbs (4.1 kg) - amplifier and external power supply)
Finish: Aluminum case w/ lexan top
Tube complement per channel: 12AT7/6201 input, 6SN7 or 12SN7 output. On-board jumper that allows the user to switch between using 6SN7 and 12SN7 tubes. 12AU7 tubes also work in the MZ2, and lower the gain.
Speaker Recommendations
LTA amplifier owners have found great enjoyment using their amps with a variety of speaker outside of the below ranges. The below are guidelines, not rules. If you have questions about your specific speakers, chances are someone we know has tried them. Don't hesitate to reach out with questions about your specific setup. Also, don't forget we have a 14-day no-questions-asked return policy.
Critical listening environments: 105db sensitivity and above
Smaller rooms / lower volume levels / non-critical listening: 97db sensitivity and above
For those who demand the best, but want to keep things simple. The Z10 Integrated amplifier delivers the magic, realism, and 3D soundstage of our patented ZOTL technology, all in one (gorgeous) box.
The ultimate expression of the microZOTL as a full-featured reference preamplifier and headphone amplifier.
Small and mighty. The highest expression of the patented microZOTL technology as a headphone amplifier, a preamplifier, and integrated amplifier in a desktop-sized package.